Work from home marketing tip 1.
Now you have some time for marketing lets take a look at what is already online about your business. Once we have an idea of what's already out there on the web we can start to improve and market your business online.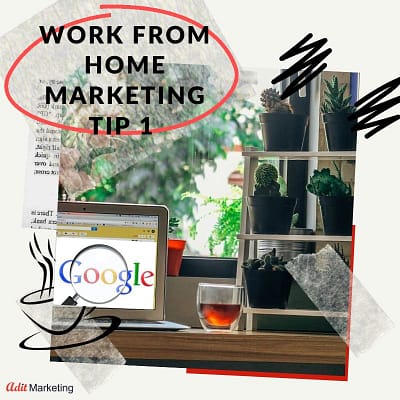 WHAT is a Business Digital Footprint?
Your digital footprint is anything digital about your business - your website, your social media profiles, your local search listings, images, mobile apps, videos on Youtube, your blog, reviews, testimonials, articles or comments you have posted, online advertising or your e-commerce shop.
Even if you have not listed your site online, do not have a website or social media accounts it is very likely there is information about your business online.  People can review and make comments about your business and directories automatically pick up details from places like yellow pages and display them on line.
WHY is it important to check your Business Digital Footprint?
Build trust and credibility by having a consistent brand image and accurate details across your online presence.
Check the information available on the web is relevant and current, so your clients and potential clients are all getting the same message, whether they find you through Facebook, Linkedin, your website or a trade directory.
Having a positive digital online presence is a low-cost, effective, and flexible way to get your products and services in front of potential customers.
Ratings and reviews that customers leave can benefit your business.  But you do need to be thanking customers for leaving good reviews and addressing the concerns of the not so satisfied customers.
Google does not prioritise your website in the search listings if your business information is not consistent across the web, eg you do not have the same name, address and phone details on all your listings.
A great local search listing presence is incredibly important for the success of any small business. The ability to rank highly in local searches (like "best bookkeepers in Joondalup") is a huge competitive advantage over a franchise and big business with  big advertising budgets.
HOW to check your Digital Business Footprint?
The easiest way to check your digital business footprint is to perform a Google Search for your business name, see below image of a Google search for Bizwize Business Solutions.
You should see listings from your website and places like:-
Google My Business (on the right of the screen)

Yellow Pages

Directory Listings 

Social Accounts
If you are not seeing any results, try searching for your Business Name and your Suburb
ACTION - Document your Business Digital Listings?
Create a spreadsheet of your digital listings.
(Download Business Listings Template) and complete

OR
Take a screenshot of the top 10 - 20 listings OR
Bookmark the search results page (Click CTRL & D) In
Now you have a list of where your business is displaying on the web. You have a starting point for updating the listings and a start point for improving your online marketing. So when you have time or someone available to complete or update the online listings you have the information at hand.
In Adit Marketing Tip 2 we look at claiming your Google My Business. In future tips we will be looking at writing your business "About information" and the best keywords to use in your "Product /Services descriptions".
Note: The Business Listings Template is provided on a Google Spreadsheet, the easiest way to use the template is if you are logged into a google account. This will then allow you to Make a Copy so you can edit and add your own information. Or you can download it as an Excel file, but I have not tested this.
MORE Information about Managing your Digital Listings
I recommend setting up a password manager like Lastpass to remember the login and passwords for the listings. The Free version is great, consider the paid if you need to share passwords.
(LastPass is a secure password manager that stores all of your usernames and passwords in one safe place, called a Vault. After you save a password to your Vault, LastPass always remembers it for you.)
Set up Google Alerts - to monitor the web for mentions of your company of products/services.
  https://www.google.com/alerts
Note: Beware of companies offering to manage your digital listing through computerised systems. Currently, I do not know of any system that is geared for the Australian market, most are US based and miss the importance of being listed in the main Australian directories. (Even though their sales people think that it's all the same !!!)
Working with Perth Business owners who need someone to work with them, assisting them to grow their business.