Work from home marketing tip 3.
Check to see if my website still relevant and effective in promoting my business.
A website to be effective needs to attract the right prospects, as well as build trust, provide information, and convert visitors into customers. 
It is never enough to have your website built and forget it, to have a relevant website we need to be consistent about keeping it up to date with current products or services and for it to be effective it needs to be easy for visitors to contact, sign up or buy from you.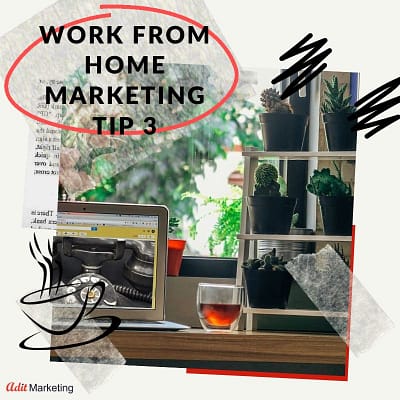 WHAT is Website Relevancy & Effectiveness?
The relevancy is how relevant your current website is to your current business since it was built have you changed focus or supply different products or services?
The effectiveness of your site is how well it talks to your target audience and helps them find what they are looking for from your business offerings and assists them to find, contact or order from you.
WHY assess the relevancy & effectiveness of my website?
Businesses change focus, products and services evolve, customer expectations change.  Has your website kept up to date with the changes in your business?
If it is not obvious to a stranger how you can meet their needs they will move on and all the work you have done to get them to visit your site  will have gone to waste.
Can visitors to your site see immediately 
What you do

Who you do it for

Where you are

How to buy, find or contact you
A website that is not relevant to your business or effective at assisting potential clients is not worth spending time or money on to improve the search rankings or SEO and definitely not worth paying for Adwords or PPC advertising.
HOW to check the Relevancy & Effectiveness of my website?
Website Relevancy
What is your businesses current purpose/focus and does the website represent the purpose/focus of the business?

Does the site showcase your products or services?
Does the website give visitors the information they need?
Website Effectiveness
Who are your businesses best customers, is your website appropriate for that target audience?
Does the website provide the information in a way that is easy to access and understand?
Is it obvious and simple for visitors to get in contact with you, buy from you or find your premises?
ACTION - Checking the Relevancy & Effectiveness of your Website?
Check the relevancy & effectiveness of your website for your business.
Take a moment to think about your business.  What are the main products or services you sell the most of, or that make you the best return for your investment?
Then take a look at your website as if you were a new customer, looking for specific information about your product/service and this customer knows nothing about you or your business offerings.
Now answer the following questions.
What is your businesses current purpose?
Does the website represent the businesses current purpose?
What are your businesses main products or services?
Does the website showcase your products /services?
Who are your best customers, the ones you would like more of?
Is the website appropriate and relevant to this target audience?
Does the website provide the information visitors need to make a buying decision?
Is it simple and obvious for visitors to get in contact with you or purchase from you??
If your site is not meeting these requirements, it is time to make some updates to your site.
If you are happy with the answers to these questions, well done, you have a website that has relevant content which visitors can use to learn about your business.  In the next weeks, we  will be looking at what you can do to improve the performance and rankings of the site to grow your business.
We are not looking at page relevancy here.  Page Relevancy is an SEO term, It relates to the consistency of a searchers keywords to the
relevancy
of the content on a page and a website.  The closer the content is to the intent of the searchers' request, the higher you rank in the search engines.
Working with Perth Business owners, assisting them to grow their business.